We Have a Large Selection
At Rems Opticians, our store is stocked with a wide selection of frames for you and the entire family. We understand that many people enjoy the peace of mind knowing they have multiple pairs of glasses on hand. Our large selection accommodates the needs of every individual.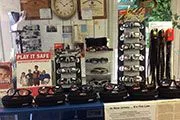 Find the Perfect Frames for You
The right frames speak a million words about your personality, and we invite you to come into our shop today to find the right ones for your personality and style. If for some reason you do not see a pair of glasses you want, just ask us and we will try to get it for you.
Brands we carry:
Ray-Ban
Vogue
Ralph Lauren
Safilo
Kate Spade
Fossil
HUGO BOSS
Liz Claiborne
Marchon
Nine West
Match
Helium
Danny Gokey
L'Amy
Nicole Miller
Columbia
Bolle

Bellagio
Vera Wang
Penguin
Kensie
Dana Buchman
TMX
Timex
Jhane Barnes
Tura
Ted Baker
Uber
Capri Flexure
Revolution
SunTrends
Italia Mia
Royal Daulton
Certified Liberty Rec Spec Sports Center